Unattended Sea Burials in Atlantic Beach, NY 11509
Why Unattended Sea Burials Is An Effective Approach In Atlantic Beach, NY?
Losing a pet is similar to losing a family member! If the pain is not managed correctly, it can lead to long-term grief and other mental health problems.
One of the primary reasons for this is that the pet owners do not have the opportunity to say a proper goodbye by properly disposing of the pet's remains. A pet sea burial service in NY will help you heal and relieve your grief.
There's no better way to honor a beloved pet than by scattering ashes in the sea in Atlantic Beach, NY. You'll feel calm by keeping your pet remain at the ocean by arranging a funeral at sea in Nassau County.
Here are some of the reasons why families having a pet should consider opting for a pet sea burial service for their pet in NY:
1) Creates A Memorable Experience
Happy memories, the daily routines, and the constant presence in our lives have great value and significance. Unfortunately, losing a pet is usually an unexpected event we are unprepared for.
They may catch a disease or an illness, causing their health to deteriorate and eventually death. Accepting death and moving on becomes even more difficult due to uncertain losses and unpredictable nature.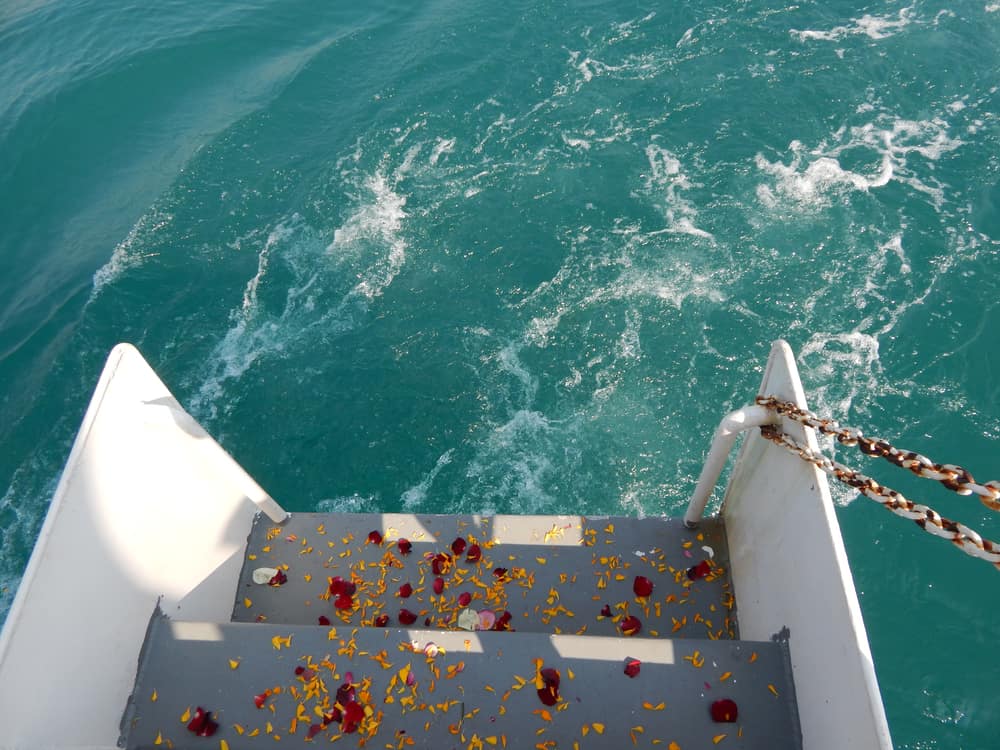 Therefore, one of the most important reasons to hold an underwater memorial service for your pet in Atlantic Beach, NY, is to provide closure, allowing you to accept and reflect on the loss.
2) Ideal Place For Family Reconnection
Pet sea burial services in Atlantic Beach, NY can provide a spot for you and your family to visit and remember your pet.
Pet burial by the sea in Nassau County gives you a sense of closure and allows you to pay a unique tribute to your pet. You may keep your pet's memories alive by scattering ashes on the sea in Atlantic Beach, NY with your family.
3) A Way To Pay Tribute To Your Pet
Another human may or may not be there for you, but a pet will always be there. They deserved to be remembered, and what better way than holding sea burial services in their honor!
You can make the unattended sea burials in NY as straightforward or elaborate as possible. You can hold an underwater memorial service in Atlantic Beach, NY, for your pet and share their memories through speeches, photos, videos, and other mediums.
While you may shed a tear or two, you will genuinely appreciate your pet's life and the joy they brought into your life.
Reach Eternal Peace Sea Burials For Your Pet Sea Burial Needs In Atlantic Beach, NY
At Eternal Peace Sea Burials, we love every pets in Atlantic Beach, NY! They are, after all, our family. Let us assist you in arranging the memorable pet burial by the sea in Nassau County and creating wonderful unattended sea burials memorial to celebrate their lives.
Our sea burial team near me at Eternal Peace Sea Burials will do everything possible to assist you with all the requirements of your unattended sea burials, funeral, memorial, and funeral preparation needs while treating you and your loved ones with dignity and respect.
We are dedicated to providing a thoughtful, personalized pet funeral service at sea in a pleasant, reasonably priced environment. At Eternal Peace Sea Burials, we also offer the best food catering service for gathered families for the unattended sea burials.
If you want to accomplish a pet funeral at sea, please call our sea burial team near me at 631-668-5800 at any time.
---
Some information about Atlantic Beach, NY
Atlantic Beach is a village in New York. It is located off the South Shore of Long Island in the Town of Hempstead, Nassau County, New York, United States. As of the 2010 United States Census, the village population was 1,891.
The first real interest in the barrier island of Atlantic Beach came in 1922 when Robert Moses, the famous highway builder and public works czar, and Chairman of the State Council of Parks, included Atlantic beach as part of his 'State Park Plan for New York'. The blueprint, which is on file at the archives in Albany, showed a parkway from central Queens to a bridge crossing Reynolds Channel with architecturally refined facilities for thousands of beach goers; unfortunately however, cost overruns on many of Mr. Moses' other projects at the time and other factors dampened his plans which were ultimately abandoned.
In 1923, the village's first developer, Atlantic Beach Associates led by Stephen P. Pettit, a former Nassau County Sheriff and banker from Freeport, had dreams of creating a place that would rival the City of Long Beach, which was created by a Politician and amusement park operator named William H. Reynolds. He died just after buying land for 3,500 lots in Atlantic Beach.
In 1926, real estate tycoon William Austin, who graduated from Yale University with his associate, Charles N. Talbot Jr, formed Island Park Associates which purchased the land for $4,000,000. William Austin was married to Actress Josephine Sanders, better known as Irene Delroy; the wedding was officiated by Mayor James J. Walker on July 15, 1931. Austin and Talbot completed Pettit's preliminary dredging and. shoring work, and proceeded to subdivide the property. They installed gas and electricity lines, and a sanitary sewer system was installed in 1927. They began selling land and building homes; the first 45 of the 150 homes they planned on building were financed using a mortgage from The Title Guarantee and Trust Company. The. homes were all designed with seven rooms, two baths, private detached garages on 48′ x 88′ lots and were built in a wide array of styles. Mr. Austin finished Petitt's plan to build a bridge between Far Rockaway and Atlantic beach, which was opened and dedicated on June 29, 1927. A boardwalk was planned for the entire ocean side but, as constructed, it was about a mile long, stretching from west of The Plaza and extending beyond Vernon Avenue, and double the width of the boardwalk which exists today.
Learn more about Atlantic Beach.
Useful links for Atlantic Beach, NY
Directions from Atlantic Beach, NY to Eternal Peace Sea Burials
---
Here are some catering-related links: